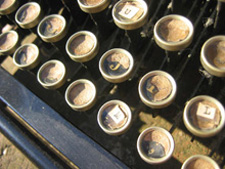 Online Work
The SCIOLIST
CIVIL WAR and AFTER

Cold War Nightmares
We grew up thinking there was a pretty good chance, maybe 50:50 or worse, that the whole world was going to go up in a nuclear fireball holocaust some day in the near future, without any warning to any of us.
Missing Pieces
Rounded like a cream-colored cast-iron bank-safe, deep and delicious. I sometimes forget they didn't have it till the end.
Allure
A naked woman's body is a biological fact. A woman dressed to seduce is an inhabited beauty, a promise of pleasure, a flame from Heaven.
Snakehips
She wasn't a dancer, and it wasn't music. She was an elemental force that pulled music into her body and merged both into something more than human.
Earth Day
Environmentalists often share with creationists the utterly unscientific view that the world was set spinning in one complete, harmonious form.
Under the Grass
Memorial Day began not in one place but in many. Hilltop cemeteries across the North, behind old stone churches and meetings, with long views across the farms.
'Washington's Crossing'
Hessian prisoners were so well treated that, once they had got over the shock of it, they could be sent from one holding place to the next without an armed escort.
Heroes
Not all of them are soldiers, but the new war sweeps up more than soldiers in its causes. And all believed in something.
Democracy
To understand the founders of American democracy, you have to stand where the founders stood, and then look back, from there, at the past they knew.
Sept. 11 and After
And I kept looking at the pictures, and the words, and thinking, "That can't be right. That can't be right."
'The End'
There is nothing now here, above ground, where they were but the wind and the night. We can never get into them in their final moments. No traveller returns to tell what they felt, falling, burning, crashing down.
Ground Zero
The wrecked buildings looked organic; like melted candles or rotting chunks of flesh.
Journalism
Journalism is 90 percent the art of deciding what not to tell you. You pay us to decide what's essential to you.
Pausanias
He was the first of us, the historial tourist, and he gazed as we gaze, noticing what we would notice.
Virtue
Classical virtue was not meek. It strove to be first in doing good for one's country and coveted the glory that comes with unrelenting devotion to the good of the people.
'You Would Weep'
Everyone knew the town would be looted and the inhabitants massacred when the Americans left.
Mother Tongues
A dictionary half in an unknown language is a fountain of inspiration.
Old English
It was an English without all the cobweb words. It was an English with far more strong verbs, with their juicy evolutions.
Guy Davenport
He was a brilliant and learned man, but with a warm, salt-of-the-earth, Southern sensibility. Think Pound without the prickly aestheticism and the Ivy League snobbery, without the fascism.
Boring Postcards
I still don't know any more about these postcards than what they show and tell.
Old Money
In West Berlin in the '70s, I bought in an antique shop a stack of old German World War I-era currency.
J.R.R. Tolkien
Tolkien was a devout Catholic. But as a scholar Tolkien was deeply immersed in the pessimistic, pagan world that he studied and taught every day.